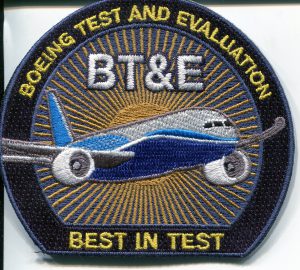 Welcome to LabRatAlumni.com the site for former and current employees of the world-renown Boeing Structural Test Labs and open to all other test laboratories. "BEST IN TEST".
Daniel Axel Simmons
March 5, 1955 - August 25, 2022
Our friend and Boeing colleague, Daniel Axel Simmons passed away from a massive heart attack on Thursday August 25th, 2022. He was 67. He founded the Boeing Lab Rat Alumni Facebook Group page.
In June of 2016, Axel and I both decided to take the VLO early retirement option and threw a big retirement party at Odlins. We then started to arrange monthly Boeing Lab Rat Alumni lunches and kept us all connected through our Facebook Group. We would occasionally meet at our old stomping ground, Loretta's for random get together lunches.

Axel and I spent many decades working in the Structural Test Labs at The Boeing Developmental Center as Instrumentation Engineers. There were many stories, but the one that sticks out the most about his character was when we were about to have an imminent explosion of a test article. Time was of the essence and quick decisions had to be made. I yelled, "Where's the manual exhaust valve" and Axel sprang into action, running next to the test article only to come to a purposely locked access door. He then found his way outside, finding a ladder and opened the large exhaust valve! Just in the nick of time, as the article pressure immediately decreased. Many lessons were learned from that test, as it was found a washer (FOD) had worked itself into the airstream and blocked an inlet valve. After the incident, a wide-eyed Axel came back to the control room with applause. He then realized how he put himself in danger. But it was his test and he knew what to do! saving who knows what would of happened.


Axel spent several years running 24/7 fatigue tests on 3rd shift. He was always innovative on third shift.
We didn't have the "budget" to repaint the aging Test Control Balcony at the DC. The ceiling was stained from many air conditioning leaks. One morning I came in, and he's repainted the whole room! I asked him, "How?". It was then, I knew to never ask Axel, "How?". We had several "midnight requisitions" additions to our rocking control room. He brought in these large JBL studio monitor speakers from surplus and hung them from the ceiling, paired to my Dynaco Amplifier from WSU!! They were officially, Acoustic Monitors to listen to sounds test articles would make during testing! At all other times they rocked!
It was during one of these long, couple weeks in a row shift that Axle suffered his first heart attack. It was then I became a big proponent of unattended remote test monitoring for third shift. I worked several months of third-shift's myself, and it does put so much extra stress on your body, physically and mentally.
Axel then took over the "new" control balcony on the other side of the high-bay, even abandoning his desk in the office area! An early webmaster, he was also the safety and 5's focal. You could always count on Axel wearing his Pittsburgh shirt whenever playing the Seahawks.

When Gail came back into Axel's life, he was like a new man. He enjoyed entertaining and getting out more! I was honored to both video and photograph their wedding.
We will miss you Axel, for your humor and friendship.
Skål