Our Boeing Lab Rat colleagues that have passed:
Matthew Aaron Langworthy
August 9, 1989 - May 22, 2023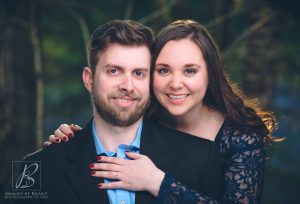 On May 22, 2023, 33-year-old Matthew Langworthy was struck and killed by a vehicle while riding his bike home from work. His loss is felt deeply by his family, friends, and coworkers across the country.

Matthew was born on August 9, 1989 in San Jose, California to Don and Nancy Langworthy. From a young age, Matthew was interested in space, including space shuttles and airplanes. By the time he was 11 years old, he had read most of the children's books on the subject and started perusing college texts. After attending the Space & Science Magnet in high school, Matthew attended Embry-Riddle Aeronautical University in Prescott, Arizona, where he graduated with a degree in Aerospace Engineering in 2011. Matthew then spent the next ten years working as a test engineer at Boeing, first in Washington as part of the P-8 program and then in Arizona as the lead engineer for Mesa Structures Lab, where he designed and performed safety and longevity tests on aircraft and aircraft components.

In July 2015 Matthew met Kara. Their first date was to a local pub for dinner then to see the new Jurassic World movie. They quickly bonded over their love of science and the outdoors with summer camping trips quickly becoming a staple of their relationship. After 5 years of dating Matthew proposed while on vacation at Disneyland in May of 2019. Despite the covid pandemic, Matthew and Kara tied the knot on October 11, 2020 with close family and friends. Exactly one year later they had their dream wedding in Leavenworth, Washington.
Matthew led a full and vibrant life. He put a lot of energy into his work, enjoying the small daily pleasures of cooking with his wife and playing games with his friends. He loved going camping, visiting National Parks, playing D&D with his friends on the weekend, and snuggling his dog, Simon. Matthew held a very special place in the lives of those who loved him. He was smart and thoughtful. He had a strong sense of fairness and personal responsibility, and had an equally sharp and snarky wit. He loved to be sweet to his wife, Kara. He had many plans for his future that will never be realized, and a slate of adventures that we will never get to take with him. –
Roy J Mosolf
July 1953 - April 28, 2023
 Roy graduated with an engineering degree from Purdue University and was a loyal Boilermaker sports fan. Roy worked for 40 years in aerospace as a stress engineer on planes ranging from the B-1 to the 747, 767 and 777. He served on AOG teams, represented Boeing on the industry-wide Aging Aircraft Working Group and was an FAA DER for many years. He enjoyed trying new recipes on his smoker, five-star spicy food, fishing, and travel, especially to Hawaii. He will be greatly missed by his wife of 30 years, Sarah, his children and granddaughter. Memorial contributions may be made to Purrfect Pals Cat Sanctuary, Arlington.
Daniel Axel Simmons
March 5, 1955 - August 25, 2022
Our friend and Boeing colleague, Daniel Axel Simmons passed away from a massive heart attack on Thursday August 25th, 2022. He was 67. He was the founder of the Boeing Lab Rat Alumni Facebook Group page.
OBITUARY
Daniel "Axel" Simmons, who felt he was "living his best life", departed this world Thursday, August 25, 2022 at the age of 67 after suffering a massive heart attack in his home. He leaves behind his lifelong, high school sweetheart, his wife, Gail Land Simmons and their cherished golden retriever, Dock. Dan loved his beautiful canal front home in Port Charlotte, FL where he and Gail entertained many friends and family, often delighting them with rides on their tritoon boat. Dan was born March 5, 1955 in Cedarville, Michigan (Upper Peninsula, "Yooper") to parents Marlene J. Shoberg and Gale F. Simmons. He is survived by his children Kelsey (Max) Frause, Seattle, WA and Anders Axel (Alison) Simmons, Seattle, WA, Landon (Maria) Manko, Pittsburgh, PA, Logan (Lindsey) Manko, Carlsbad, CA, and Tyler (Danielle) Manko, Austin, TX, 8 grandchildren, and siblings Gayla (Joe deceased) Brief, Traverse City, MI, David (Karrie) Simmons, Presque Isle, MI, and Paul (Dena) Bour, South Park, PA. And his lifelong, childhood friend, Bobbie Causley, Hessel, MI. Dan attended Les Cheneaux, MI and Bethel Park, PA High Schools and then joined the United States Air Force, 1973-1976 and was assigned to the 1st Mobile Combat Communications Group and stationed at Clark AFB, Philippines. After which he attended and graduated from De Anza College, CA. He began his engineering career at the Boeing Company as an Instrumentation Engineer in Structural Test and Development Test Labs in Seattle, WA. There he received numerous awards during his 35 year tenure with Boeing. During his retirement of 6 years he enjoyed tinkering in the garage, traveling in the RV, having morning coffee on the dock, daily swims, grilling, boating, and evenings listening to his favorite music. He also made time to be an administrator for several Facebook groups. In lieu of flowers, please send memorial donations to the Wounded Warrior Project or your local golden retriever rescue.
From Art Rusche
In June of 2016, Axel and I both decided to take the VLO early retirement option and threw a big retirement party at Odlins. We then started to arrange monthly Boeing Lab Rat Alumni lunches and kept us all connected through our Facebook Group. We would occasionally meet at our old stomping ground, Loretta's for random get together lunches.

Axel and I spent many decades working in the Structural Test Labs at The Boeing Developmental Center as Instrumentation Engineers. There were many stories, but the one that sticks out the most about his character was when we were about to have an imminent explosion of a test article. Time was of the essence and quick decisions had to be made. I yelled, "Where's the manual exhaust valve" and Axel sprang into action, running next to the test article only to come to a purposely locked access door. He then found his way outside, finding a ladder and opened the large exhaust valve! Just in the nick of time, as the article pressure immediately decreased. Many lessons were learned from that test, as it was found a washer (FOD) had worked itself into the airstream and blocked an inlet valve. After the incident, a wide-eyed Axel came back to the control room with applause. He then realized how he put himself in danger. But it was his test and he knew what to do! saving who knows what would of happened.

Axel spent several years running 24/7 fatigue tests on 3rd shift. He was always innovative on third shift.
We didn't have the "budget" to repaint the aging Test Control Balcony at the DC. The ceiling was stained from many air conditioning leaks. One morning I came in, and he's repainted the whole room! I asked him, "How?". It was then, I knew to never ask Axel, "How?". We had several "midnight requisitions" additions to our rocking control room. He brought in these large JBL studio monitor speakers from surplus and hung them from the ceiling, paired to my Dynaco Amplifier from WSU!! They were officially, Acoustic Monitors to listen to sounds test articles would make during testing! At all other times they rocked!


It was during one of these long, couple weeks in a row shift that Axle suffered his first heart attack. It was then I became a big proponent of unattended remote test monitoring for third shift. I worked several months of third-shift's myself, and it does put so much extra stress on your body, physically and mentally.

Axel then took over the "new" control balcony on the other side of the high-bay, even abandoning his desk in the office area! An early webmaster, he was also the safety and 5's focal. You could always count on Axel wearing his Pittsburgh shirt whenever playing the Seahawks.

When Gail came back into Axel's life, he was like a new man. He enjoyed entertaining and getting out more! I was honored to both video and photograph their wedding.

We will miss you Axel, for your humor and friendship.
Skål

Jeanne Marie (Brown) Atencio
October 19th, 1953 - January 19th, 2021
Lee Franta
July 3, 1959 - January 11, 2020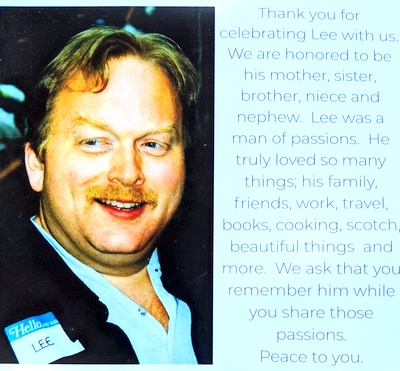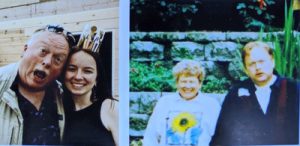 On Saturday March 1st, 2020, we celebrated the life of our Boeing friend and colleague, Lee Franta. He left us too soon, not even making it to the fruits of retirement. 
🙁 It was a lovely afternoon held on the waterfront at Brown's Point. The place was packed. It brought it home when someone spoke and asked will all the people that worked with Lee at Boeing please raise your hand. The place lit up with 80 to 90 percent of the people there!! The family was overwhelmed, wondering earlier in the week how many people would actually show up. 
😀
Lee was a famed Scotch drinker, so his sister brought about two dozen bottles from his cabinet. Not much of a Scotch drinker, but these were some fine Whiskies!!!! (Glad Onustack wasn't there!) We shared stories, but the most common thread was about how engaging he was to everyone he met. Sharing travel stories and always asking me what concert will I be at this week! 
😀 He was a gentle giant and a great asset to Boeing. He worked with my testing team and never did I have to give him an assignment. As he always brought in his own work, from all the people that knew and trusted his Instrumentation skills. 
😀
We loved and will miss you my friend. Rest in Peace.
#BoeingLabRatAlumni 
James Patrick Wallace
July 6, 1943 - May 20th, 2018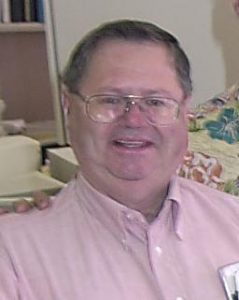 James Patrick Wallace
James (Jim), 74, of Kent, WA passed away on Sunday, May 20, 2018. Jim was born July 6, 1943 in Portland, OR to Woodrow and Marguerite. Jim graduated from David Douglas HS and then earned a BS in Electrical Engineering from Oregon State University. He moved to Seattle to join Boeing where he worked for 43 years before retiring as an expert on strain gauges and the title of Technical Fellow. 
Jim married Bonnie Linstedt in June of 1967 and spent over 50 wonderful years of love and faith together. Jim was an avid supporter of the OSU Beavers and Seattle sports teams. He enjoyed trout fishing, gardening and the stock market. He will be remembered for his kindness, generosity, leadership and support as a husband, father, grandfather, coach and friend.
Jim was preceded in death by his parents, and his brothers Robert and John. He is survived by his wife Bonnie; sister Jane Campbell (Merle); brother Jeff; daughter Cynthia Duncan (Matthew); sons Brian (Kathy), Michael, and Matthew (Julie); and his eight grandchildren.
In lieu of flowers, donations can be made in Jim's name to the St. Columba's Memorial Garden Project: https://www.stcolumbakent.org/page/22/memorial-garden-project
Please sign Jim's online Guestbook at www.Legacy.com.
A memorial service was held Friday, June 22nd at noon at
St. Columba's Episcopal Church, Kent, WA 98032